I've written before about the propensity for satire at my old alt-weekly. But one ill-fated attempt at mirth at someone else's expense was a year-in-the-[not]-making spoof of the Washingtonian, a city magazine that, in my 11 years in DC, has cycled through the same yearly schedule of lowest-common-denominator content over and over (and over) again. My old editor (whose name I won't mention) summed up the problem: "how do you satirize a magazine that satirizes itself every month?"
His words came back to haunt me as I tried to think of something to say about Baby Couture (the magazine that "puts the 'coo' in Couture") funnier than anything that appears in the first issue. At least I assume it's the first issue, there is no volume or issue number to be found. That, in itself, is proof of inexperience. They have not yet suffered the wrath of a thousand librarians, who summon up the hostility accumulated during a life enduring the twin frustrations of customer service and government bureaucracy for just such oversights. No one does poison-pen like a librarian, and little raises their dander like the omission of essential cataloging information. They don't ask for much, they ARE JUST TRYING TO DO THEIR JOB!
So, I'll try to review BC with a minimum of snarkiness.
The cover hits two of the William Randolph Hearst trifecta, pairing babe Christine Costner with baby Cayden. Cayden? Now there's a name not chosen with those painful grade school years in mind, or come to think of it, maybe it was:
Bully: "Hey GAYden, guess you're parents named you GAYden 'cause you're GAY huh?"
Cayden: "my dad is Kevin Costner, and he'd have you, your parents, and your fat sister rubbed out with just one word from me."
Bully: "Just fooling, wanna come to my birthday party next month? You can keep the gift…."
Apart for the photogenic models, the image is not particularly suited for cover use. It has too much background detail forcing the designer to drop teasers into little nooks and crannies here and there in defiance of a logical hierarchy. Despite the typographical gerrymandering, much of the text is hard to read, thanks to both the picture and the achromatic pallet. The goofy type choices don't help—who thought kiddie handwriting would work with that ghastly wedding script? The awkward competition between cute and sophisticated remains unresolved on the inside as well.
Sensitivity to typographical conventions—from SIC-able smart-quote-driven errors in headlines such as "Flip 'n Flop" which appears on page 14, right after "Wash 'n Wear" on 13—does not burden the staff of of BC. They do have the whole product placement thing down though—Christina gets a 32 pt pull quote to wax poetic about her favorite brands. "Knuckleheads" is the winner for her little darlings, but she also likes "Diesel Kids and Baby Gap."
The fashion plates are the usual pictures of children–though most are not babies. The oldest models, who are probably seven or eight, follow kiddie pic convention of imitating the jaunty poses of adult models, which sells, I suppose, the fantasy that if you dress your kids like little adults, they will quit acting so goddamn childish. In truth, it can go down like that—but only after the sort of parental behavior that can cast a pall over an entire 200,000 sq. foot suburban shopping mall, and possibly spark intervention from child protective services—potentially embarrassing for parents who shops at PradaKids.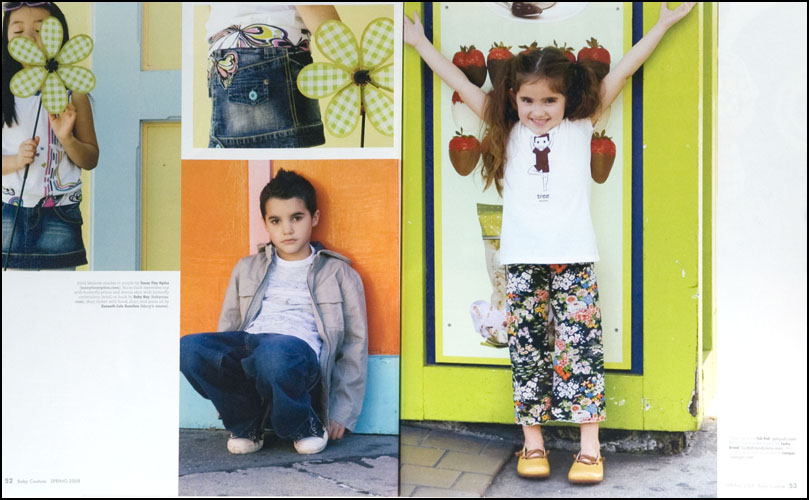 I recognize that there are parents willing to invest 300.00 in ensemble outfits that will look great until the kid grows out of it in 6 months, or throws up on himself, whichever comes first. (Though in the case of my daughter Emily at that age, the smart money was on reflux.) But are there enough of them who aren't already reading the Times' SundayStyle section to support a magazine? And aren't most of those Times readers there for yuks, not shopping advice? I guess time will, tell. Lets hope this title lasts until its Carters wear out….