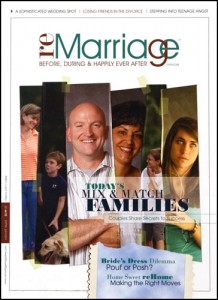 reMarriage is the magazine for "Before, During, and Happily Ever After."
I suppose that "before, during and after" remarrying is not as broad a topic as "before, during and after the bris," nor as weird as "before during and after the funeral," but the cover lines, "Bride's Dress Dilemma: Pouf or Posh?" "Today's Mix and Match Families," "Losing Friends in the Divorce," and "Stepping into Teenage Angst," do suggest a freewheeling attitude towards content that most magazines, and nearly all bridal magazines, eschew.
reM doesn't just tell us that not all marriages work out, they demonstrate it on every page with the unhappy union of Bodoni and Avant Garde, the quarterly's two signature fonts. While both faces were indeed iconoclasts in their day, I worry that that's not enough to overcome the substantial generational difference. Has Ms. Garde really thought about what it will be like living with a face 170 years her senior? Will life still be good when his pairs no longer kern?
Both fonts are used in the magazine's flag, which does not merely rely on the oil and vinegar type combo to undermine the unity of the mark, but also mixes colors, runs part of the name bottom-to-top, and interweaves two letters in the otherwise loosely tracked logo.
Inside, the colors run to the murky, the grid use runs sporadic, and the use of rules runs generous. The muddy colors I would guess, reflect the editorial attitude—a thin patina of hopefulness over the rough terrain of a cynicism richly earned as youth faded in unhappy matrimony. "It may take years" for the shouting to subside in a new marriage warns the editors on page 9. On 11, the stepmom's "Bill of Rights" urges small kindnesses that would seem modest by Gulag standards.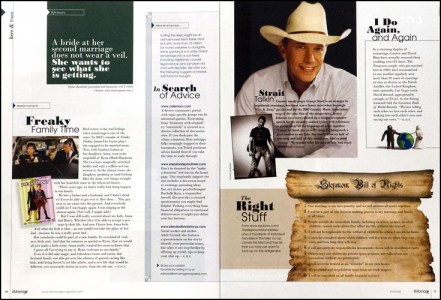 The articles are not awful, though most would benefit from tighter editing, and a bit less self-promotion on the part of the writers, many of whom are clearly trying to drum up business writing for a regionally-distributed magazine. And the design shows, if not exactly flair, a small spark, on occasion, though one that is often doused by a heavy handed approach. An article on merging established households has attractive imagery combined in an engaging way with call-outs for specific decorating problems and solutions. Too bad overlapping 20pt frames overwhelm the photographs, and the headline is given a gimmicky graduated screen that adds little interest to the design, and only dubiously connects to the topic.
Other articles, though, are a hodge-podge of stock art, tiresome tropes (the Bill of Rights is surprinted on a picture of a scroll) and novelty fonts. An article on the politics of merging families never settles on a column width, and is bafflingly illustrated entirely with pictures of cardboard boxes and scraps of floorplan.
All in all, the magazine isn't pretty, but I do intend to leave it on the coffee table for the benefit of my father in law, who once introduced me as his daughter's first husband.