What is Glimpse? I've been trying to figure that out. At first, I thought it was the clearest evidence that Good had been certified big league—having spawned this knockoff from the deep-pocketed National Geographic Association. But, Glimpse is not quite Good (in more ways than one, actually). Nor is it quite a knock-off of Co-Op America's quarterly, although both have much the same focus on international sustainability and travel, and both are aimed at the college-aged.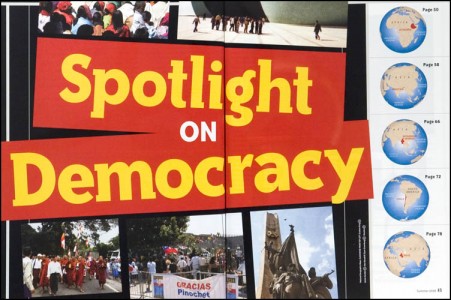 Whatever they're up to, the result is an odd, almost random mix of stuff. Who would guess that behind the screaming jackal of a head on the cover would lie multiple foodie pieces, reviews of boy bands, and a step-by-step pictorial on how to Rumba? Oh, the promised democracy package is there, too, but articles about working with activists oversees, the underside of democratic transformation, and the military coup that brought Pinochet to power are combined with benign snapshots of scenic foreign locales and colorful natives, relevant to the text only in that they are probably from the same country. It's packaged up with a typeface so cuddly you could sleep with it, and decorated with cheerful Reds and Yellows. The whole magazine is kind of like the travel section of your local paper and a high school social studies text were thrown together and set to purée.
And, will it blend? Yes, but don't breath in the smoke. Robert Hughes once described the East Wing of the National Gallery—in his estimation a more effective architectural statement than an art museum—as being like a church where one has the option not to pray. Glimpse also provides an easy opt-out, it's the magazine for international activists with sunny, optimistic dispositions, and other, more pressing priorities.
None of this is to say that serious topics and amusements can't be combined—nearly all serious magazines do it to some degree and there are lots of models for doing it effectively—Harper's Good, and Wired all come to mind. But the Glimpse take seems to be that serious news should be delivered with a smirk and wink, and that doesn't work nearly as well.
Glimpse, and the Glimpse site had a life before NatGeo's involvement—the current "vol1 issue1" is just the first under the new partnership, with the requisite new branding and enhanced newsstand presence. It will be interesting to see how this magazine evolves—whether the confused result is the product of blended corporate cultures, and if so, which set of values will win out.
The front section reprieves grunge typography.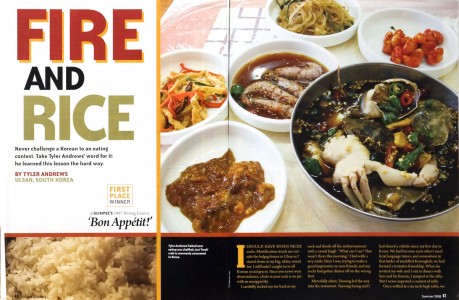 The Fire and Rice article came out of the organization's community web site, as did much of the other content.