I was surprised to find the book of the SubGenius still in print. My excuse for including it on a magazine design site? First, it's highly cool. Second, many of the pages, and all of the art was originally created for the SubGenius Zine back in the 80s. Like the church of the flying spaghetti monster, the church of JR "Bob" Dobbs is a gag religion. SG is founded around the charismatic "Bob" an idealized 1950s father-figure who's image miraculously appears in ad after ad from that era. Subgenius is weirder, cooler, spookier than FSM, and much more entertaining. The Ohio-based group spawned several books before fading back into the obscurity from which it emerged. They still have a semi-active web presence.
SubGenius managed to catch the grungy look of period street tracts in all its IBM Compositor/Linotype Headliner glory. Like many cults, they preached a world view that warped life into something with enough real-world evidence to be almost-kinda-sorta plausible, as they seeked a universal substance called Slack, warned that Jehovah is really a space alien who still threatens the Earth, and cautioned that if you think the church is a joke, you sure as hell won't get the punchline.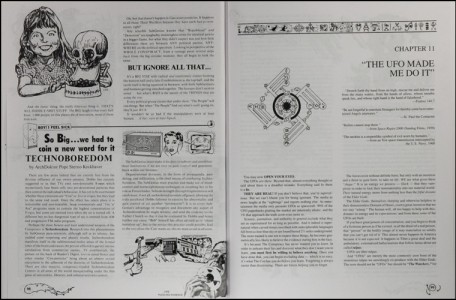 The big unanswered question about the church: Did the organization's excellent illustrator "Puzzling Evidence" influence the rather similarly styled movie sequence for the Talking Heads song of the same name?